Message from General Director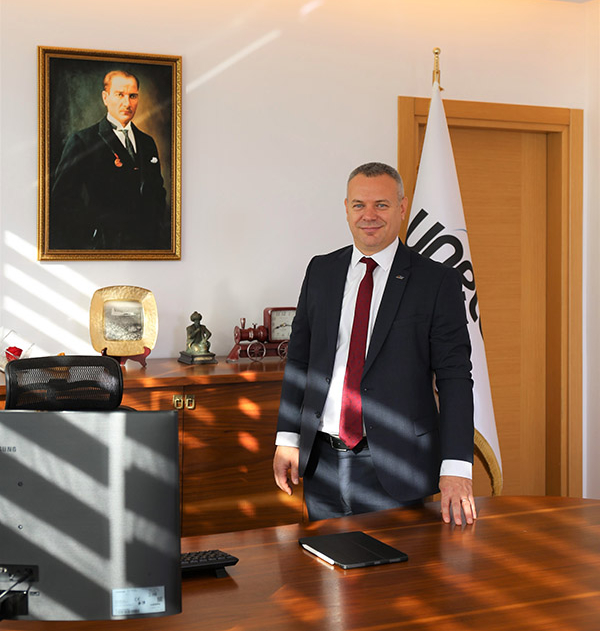 "We will work relentlessly to add value in our Istanbul and Turkey with our activities, provide the right, reliable and quality services in international arena going beyond our borders, and, with this service export, contribute in economy of our country."
Established in order to provide service in the training, audit, inspection, test, certification fields mainly for energy industry, as UGETAM A.Ş. we today feel the well-earned pride of being one of the reputable top-notch corporations in our industry. In this context, I would like to express my gratitude to all our statesmen who contribute great efforts in this select corporation, to former chairman and board members who performed their duties thoroughly and our valuable general directors and of course, all personnel of UGETAM family.
As one of the important subsidiaries of Istanbul Metropolitan Municipality, we are committed to our part that falls on us for ensuring growth in terms of economy and technological capacity of our Istanbul and Turkey, and accordingly steer our activities in order to carry our efforts a step further. To this end, we will concentrate our focus on horizontal and vertical growth in service and market areas.
In this direction, we are restructuring our core activities, aiming at expanding our training, audit, certification, technology and information technology in the energy industry by reminding and remembering that UGETAM comes to mind when it comes to "ENERGY".
As part of TRAINING and CERTIFICATION, we will offer our long-rooted experience and knowledge to the service of our institution and country in order to disseminate our trainings in water, natural gas, lighting and renewable energy field, and certification activities in the scope of PQA. We will provide top quality technical/technological training service to our stakeholders by applying state-of-the-art VR/AR (virtual and augmented reality) technologies widely, integrating with conventional training models. Being the first certification body authorized by Professional Qualification Agency (PQA), our company will continue to provide personnel certification services, organized under an impartial and independent structure, continuously and by expanding our areas whenever and wherever needed, in order to train human resources needed in our industry, and certify the knowledge, skills and qualifications of these personnel.
In line with the core competences of our institution, we will also focus our resources on ENERGY and INFRASTRUCTURE SERVICES activities as practicable as possible. To this end, as an impartial and independent institution accredited by Turkish Accreditation Agency (TURKAK) mainly in water, natural gas and other utility industries for more than 15 years, we will continue our services with our qualified human resources at our innovative laboratories fully fledged with the cutting edge technologies. We will be adding new fields such as lighting and renewable energy to our laboratories in a short time.
In our audit and advisory activity area, we will expand our services going beyond natural gas market to include real and/or legal persons, private or public institutions operating at entire energy industries (mainly renewable energy and lighting) as well as non-energy industries, continuing to provide top quality and reliable audit and advisory services. As a TURKAK accredited Type A inspection body under the requirements of TS EN ISO/IEC 17020 standard, we will carry on our audit and advisory activities disseminating them to include all areas of energy industry.
As is known that fossil fuel originated energy is not sustainable, we undertake it as a strategic task to expand our advisory, audit and inspection activities into and across renewable energy area (solar, wind, hydroelectric, bio-mass and geothermal) both locally and internationally. To this end, UGETAM campus will reach a turning point in 2021 when it produces zero carbon and meets its entire energy need from renewable resources. This campus will be a first-time in the public industry, creating a difference by setting an example in the period where awareness on energy efficiency and renewable energy has been heightened.
In this period marked with the increased importance of INFORMATION TECHNOLOGIES, UGETAM undertakes it as a task to develop qualifications in enterprise software and process optimization for energy industry and public, providing the top quality service in the best conditions. With respect to public enterprises, thanks to our equity and model company we developed in an extensive participation, and as a business partner of the world recognized SAP company in "Enterprise Resource Planning" software, we will be happy to serve to energy and public companies and institutions in the new period.
Last but not the least, we aim at elevating our company to a level enabling us compete in the international arena in line with our experience and competences regardless of public and private industry in important infrastructure projects of Istanbul and Turkey.
For an Istanbul and Turkey which set an example with technology and infrastructure, UGETAM A.Ş. as a municipality subsidiary with national and local capital, will continue providing any kind of support at full steam as it always has been.
Assoc. Prof. Dr. İbrahim EDİN
General Director